Rose Hill Plantation
Restored 19th century Federal-style house of William H. Gist, Governor of S.C. in the 1860's. Rose Hill's mansion, period furnishings,gardens, historic trees and nature trail covering 44 acres on the Tyger River give the visitor a realistic look at plantation life in the days prior to the Civil War. In the 1860's S.C. had no Governors Mansion so Rose Hill became the Governors Mansion for his time in office. Listed on the National Register of Historic Places. Hours Th-M grounds 9am-6pm; house tours 1-4pm (closed Tue&Wed) Admission: grounds free, house tours $4 age 16+, $3 age 6-16, $2.50 S.C. senior, under 5 free.
Directions from Big Buck GNCC: left on hwy 49N towards Union,S.C.-to Cross Keys, S.C. right fork on Old Buncombe Rd.- left onto Sardis Rd.- you will pass the Gist Cemetery on the left and the park will be on the right. Address is 2577 Sardis Rd., Union,S.C. 29376 and telephone# is (864)427-5966. Address of Big Buck Racing is 170 Red Barn Road, Enoree,S.C. 29355 (for mapquest purposes) More info. is on www.discoversouthcarolina.com
Cross Keys House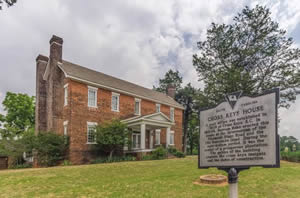 If you leave the racecourse and go towards Union you will see the house just to the right as you go through Cross Keys. There is a historical marker in front of the house. It is not open to the public.
Blackstock Battleground
Includes a historical marker. Revolutionary War battle of Nov. 20,1780 which was fought adjoining the property you will be racing on! Lt. Col Thomas Sumter (The Gamecock) led the Patriot forces, under his command were Lt. Col. James McCall, Lt. Col. Henry Hamton, Lt. Col. Edward Lacey, and Lt. Col. William Hill; these commanding militia units from South Carolina and Georgia. The British forces were under the command of Lt. Col. Banastre Tarleton, who was notorious from The Waxhaws Fight on May 29, 1780 where patriot militiamen surrendered and were cut down with the sabre (Tarleton's quarter). Sumter's forces were preparing to ford the Tyger River when Ms Mary Dillard rode to tell him that Tarleton's column had earlier passed her house and contained calvary and infantry but no artillery. Sumter realized Tarleton would overtake his force before they could complete the fording and decided to take defensive positions at Blackstock's Plantation. Tarleton's command included his own Legion of Dragoons and a mounted infantry battalion of the 71st. Highlanders. Tarleton's troop, being mounted, had gone on ahead of the main British army, and thus had no artillery support. Tarleton had never been defeated in battle but that day he was stopped- not defeated- and his force withdrew to a nearby high hill. Sumter was badly wounded in the shoulder, chest, and back. Sumter's forces forded the Tyger River that night and thus left Tarleton in possession of the field. Sumter was not expected to live and his men carried him across the river wrapped in a cow hide. He did recover and fought other battles. This was the first time Tarleton had been stopped in a battle.
Musgrove Mill Battleground
Revolutionary War battle on August 18, 1780. This site includes facilities and is located on Hwy.56 going towards Clinton, S.C., on the left after you cross the Enoree River. Patriot forces included Lt. Col's. Isaac Shelby, Elijah Clarke, and James Williams who commanded militia from South Carolina and Georgia. Patriot losses ultimately were a dozen men killed or wounded while Loyalist losses were far greater, amounting to 150 men killed or wounded and 70 men captured. This battle took place two days after Gen. Horatio Gates was defeated at Camden.
Cowpens Battleground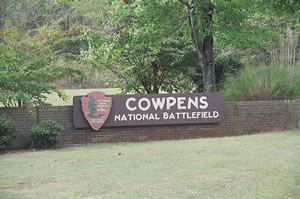 Revolutionary War battle on Jan. 17, 1781. Located in Cowpens, S.C. which is north of Spartanburg, S.C. very close by I-85. This was when Lt. Col. Tarleton was defeated.
Kings Mountain Battlefield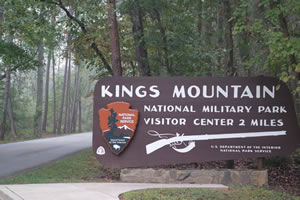 Revolutionary War battle on Oct. 7, 1780. This site is located near I-85 at Kings Mountain, N.C.- that's south of Charlotte, N.C. Patriot forces included the "Tennessee Over-Mountain" men. Loyalist forces were commanded by Maj. Patrick Ferguson. Here's the fact you may not have known: this battle was won by the Patriots... Ferguson was the only actual British soldier present... the battle had been one between Americans!!!